HUZZAH!!
Now for something completely different... some trousers! Slacks don't get worn much in Crafty Traveller land (no reason other than I feel more 'me' in skirts), but that's not to say I don't like them. In particular, l

ast autumn's trend for brocade trousers tickled my fancy quite considerably.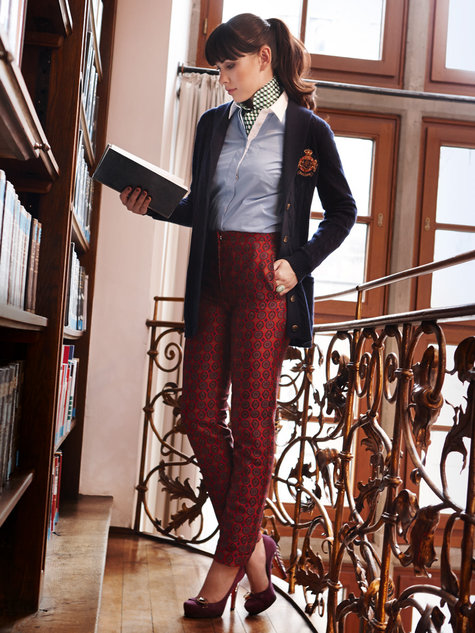 Burda describes these trousers (11/2013/110A
) as being a "straight legged shape [which] looks good with a variety of tops". It's a simple style – fly front, side pockets, straight legs, cuffs. Made up in a brocade, they look quite smart. The length of the leg is cropped (tide out as we'd say in NZ) and actually looks alright in reality.
The fit was good for me – I always find Burda good – the only problem being that I made these in more of an aspirational size rather than my actual size. This was because of fabric shortages more than anything – I promise!
This fabric was purchased on my trip to NZ back in January/February. It was exactly what I was looking for, but they had very little left. I purchased the last 1.5 metres, and it is only 110 cm wide, so things were tight from the get go. I actually ended up cutting it on the cross grain as I had to fold the fabric in half along the long (cut) edge and pretend that the short edge was the selvedge. It worked fine, notably because it was perfectly perpendicular to the straight grain and because of the nature of the fabric (a tight weave).
The material is weird. The gold bits are actually metal, and it kind of stinks. I have NO IDEA how I will wash these trousers. The stuff also frayed like billy-o so as soon as the pieces were cut out I used Mum's overlocker (I was still at home at that point) to serge all of the raw edges.
Returned to the UK, sewed them up, tried them on and realised they were a tad too small in the puku region. (Puku means tummy in maori – there is a really cool children's book about a little boy with a big puku and his friend Moata Moa: Pukunui ). As a result, there are puckers around the top of the legs/c.r.o.t.c.h area due to insufficient ease.
I really liked the crisp finish to the trousers sewn/shown by Burda, but this fabric (and the metal in it) just does not stay pressed. So, to get the look I wanted, I sewed centre seams down the front and back of each leg.
I am happy with how they turned out, and will be even more happy once they fit a bit more comfortably!